Knees that get you on your knees
The pork knuckle that will really knock your socks off! Deliciously crunchy pork knuckle and other pork specialities that you can wash down with some great pilsner beer from tanks. You can find us near Charles bridge in Prague, Mostecká street nr. 16.
Starters
Pork cheeks in gravy (served cold), bread
149,-
Warm smoked pork cracklings from Duroc, bread
109,-
Roasted pork sausage, mustard, horseradish, bread
129,-
Pickled czech traditional cheese, bread
109,-
Homemade potato chips served in cone
99,-
Potato pancake (2 pc) with sour cabbage, fried in pork fat from our knuckles
139,-
Soup
Cabbage soup made from our knuckle
109,-
Main course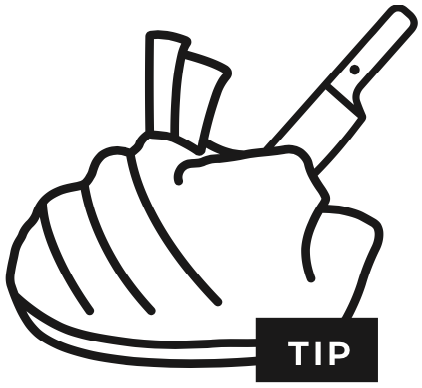 Pork knuckle, mustard, horseradish, crispy sauerkraut
439,-
Pulled pork knuckle served in butter bread, mustard mayonnaise,
crispy sweetly-sour cabbage, fried onion
279,-
Pork schnitzel fried in pork fat, light potato salad
289,-
Roasted pork ribs 550g, cabbage salad with mayonnaise, garlic bread
359,-
Salads
Chopped lettuce salad with Czech grilled goat cheese, pumpkin, pumpkin oil
249,-
Sweets
Homemade fruit dumplings with cottage cheese, sugar and warm butter
159,-
Apple strudel with caramel whipped cream
129,-
Beer ice cream with caramel whipped cream
139,-
Need more?
Beer
Pilsner Urquell 0,3l / 0,5l
55,- / 65,-
Volba sládků 0,4l (brewmasters' selection)
65,-
Half-and-half (mixed light and dark) 0,5l
65,-
Cider
Frisco cranberry / spritz 0,33l
69,-
Non-alkoholic beer
Birrel pomelo grapefruit drought 0,3l / 0,5l
55,- / 65,-
Fruit moravian spirits
ŽUFÁNEK plum, apricot, pear
55,-
ŽUFÁNEK from barrel: plum, pear, apple
65,-
BARTIDA plum, pear, apricot
49,-
R. JELÍNEK Kosher plum / from barrel 5 y.o
59,-
BLATNÁ Baron Hildprandt from barrel, year 2006: plum, pear
99,-
KLEINER wild pin, silver plum
89,-
KLEINER Apricot First Tear 33 XO
290,-
Whisky
Gold cock 10 y.o. single smalt
69,-
Svach's Old well peated single malt
89,-
Rum
Spirits & liquers
Myslivecká Reserve 4 y.o.
39,-
Wine
Veltlínské zelené (dry, Michlovský)
85,- / 425,-
Chardonnay (medium sweet, Davinus)
109,- / 545,-
Zweigeltrebe (dry, Michlovský)
89,- / 445,-
Svatovavřinecké (dry, Davinus)
89,- / 445,-
Rulandské modré (dry/Šlechtitelská stanice vinařská)
119,- / 595,-
André Sekt (brut, Šlechtitelská stanice vinařská)
95,- / 475,-
Soft drinks
Homemade Orange lemonade 0,4l
69,-
Homemade raspberry lemonade 0,4l
69,-
Hot drinks
Opening hours
Mon – Sun 12:00 - 23:30
t: +420 725 181 828
porks@porks.cz
Mostecká 47/ 16, Prague 1
Fakturační údaje:
DTS company s.r.o.
Mostecká 47/16
118 00, Praha 1
DIČ: CZ07110464
IČO: 07110464
Information Notification (EET)
Under the Sales Records Act, the seller is required to issue a receipt to the buyer.
At the same time, he is required to register the received revenue with the tax administrator online; in the event of a technical failure, within 48 hours at the latest.